Twitter H-D Stitched Background
12 August 2009 - 08:32 PM
Copyright
© welcomebikers.com
H-D Stitched for your Twitter Biker Background.
How To Install Biker Backgrounds for Twitter:
1. Click "H-D Leather" Image to enlarge to full size, download image to your computer.
2. Login in to your Twitter page and select your "settings"
3. Select "design"
4. Select "Change background image"
5. Select "Browse" find/locate image on your computer"
6. Then Select "Change design colors"
7. Select the colored "background" color and on the pop up color tab paste "000000" in the upper right corner, press done.
8. Select "save changes" and enjoy
<u><b><!--sizeo:3--><span style="font-size:12pt;line-height:100%"><!--/sizeo-->IMAGE PREVIEW @ 1680x1050<!--sizec--></span><!--/sizec--></b></u>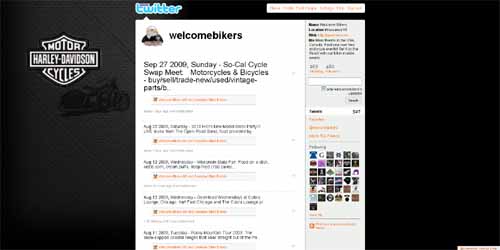 Photostrip for Twitter Motorcycle Backgrounds